Each photoshoot is a party
Each photoshoot is a party
Anyone who has ever had photos taken with children, will probably know everything about it: a lot of stress and hassle to make sure children look at the camera, playing tricks to make them laugh. Out of desperation you promise them an ice-cream if they finally cooperate now.
The result is a series of photos with forced smiles and every time you take a look at these photos you remember what a challenge it was to have them taken.
What if I tell you it can be done differently?
A photoshoot can really be a party for the entire family!
Playful Heart in children's photography
Each photoshoot will be a party, if you can play fun games with your family! Children who participate enthusiastically, because they are going to beat mum and dad in the next game. They have fun – and so do you – and this is reflected in every single photo. A loud laughter, a meaningful look at each other. The warmest hug you can imagine.
Together with my friends Japie (monkey) and Gigi (giraffe), my 'magical bag' full of things and dozens of games in my head we will enjoy an incredibly fun and joyful photoshoot. Spontaneous and relaxed, a lovely moment for your family. I promise you that true joy and pure love will dominate all photos!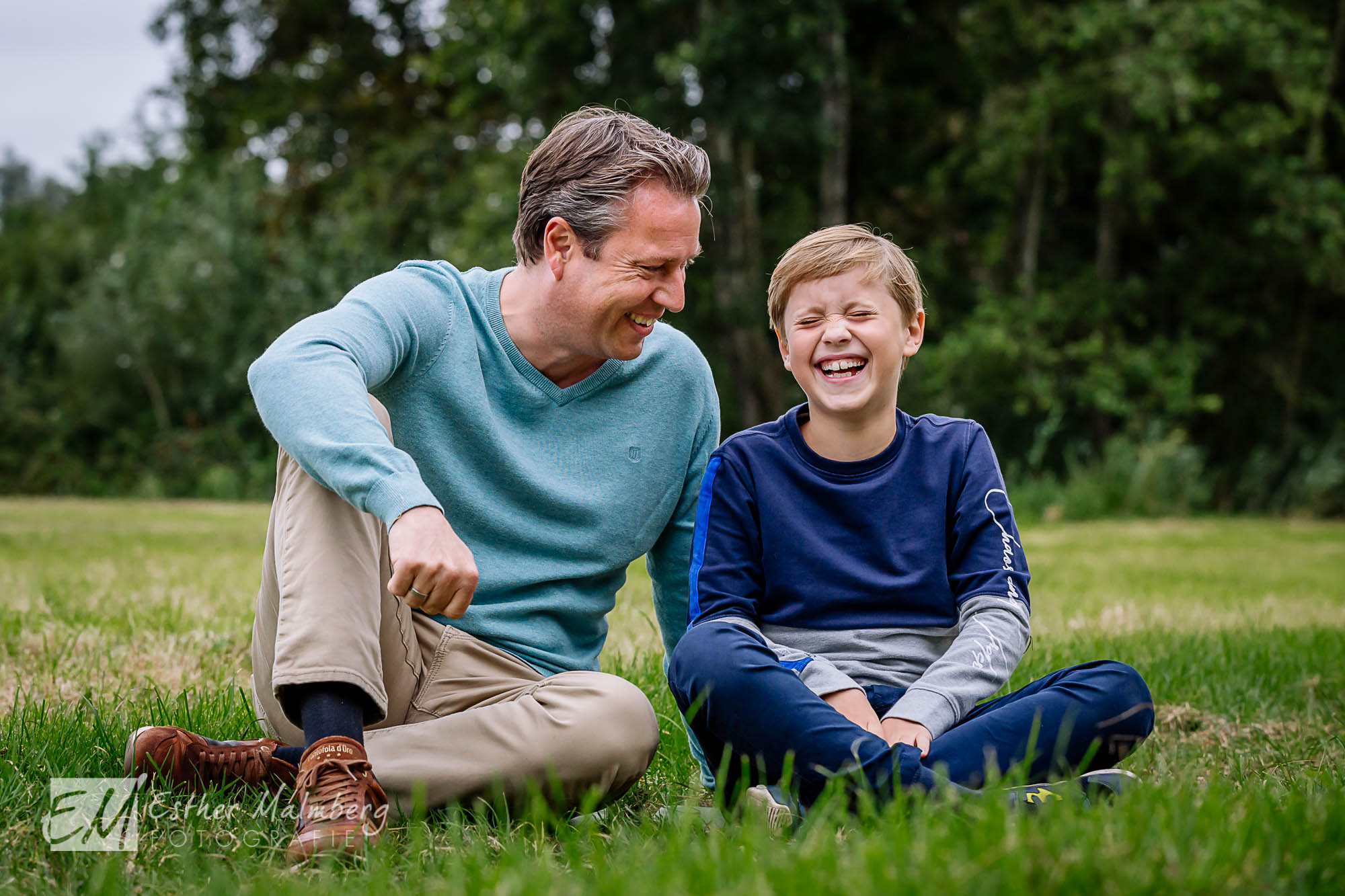 Photoshoot with teenagers
Don't your teenagers want to be photographed anymore, unless it is a selfie with a 'duckface'? Is your most recent family photo therefore heavily outdated?
A photoshoot can be a wonderful experience for teenagers as well! I have all kinds of cool assignments and funny games especially for families with older children. The teenagers are actively involved in everything we are going to do during the photoshoot: you will notice that they will participate and all of you will have great fun during the shoot.
Photoshoots with teenagers? I love it!
Preparation for the photosession
To get to know you a little, I will send you a short questionnaire in advance. Your hobbies and favorite holidays will give me for example inspiration for fun topics we can talk about during the shoot.
The photosession
With games and assignments we will have a fantastic photoshoot! Children – and parents – don't have to pose or sit still for a long time. No, we are going to have fun together! That relaxed feeling and spontaneity will be reflected in the photos. How nice is it, when you see true love, joy and happiness on your photos? Photos that touch you! Not only now, but also in 10 years. All because they are so sincere and genuine!
Curious about what such spontaneous photos look like? Click here for my portfolio
Selecting the photos
After the photoshoot we will make an appointment to view the photos together. While enjoying a cup of coffee, tea, soda and something sweet we will view the results of the photoshoot. Is it hard to make a choice from all photos? I will be more than happy to assist you to make a beautiful selection.
Rates family shoot
Beautiful, pure and spontaneous family photos? You can book a photosession with prices starting at € 225,-. These rates are for families up to 5 persons. For every next person € 15,- is charged. Please, send me an e-mail for a customized quotation.
Do you prefer an appointment on Saturday? For a Saturday, there is an additional weekend-fee of € 50,-. With the exception of weddings, I'm not available on Sunday so I can spend precious time with my family. There is no weekend-fee for groups larger than 10 people. 
Joy
With a small mini-album
Photoshoot of approx. 90 minutes at a previously agreed location

5 digital photos of your choice in high and low resolution

The best 8-10 photos in a mini-album (15×15 cm, 8 pages)
Love
Your favorite photos
Photoshoot of approx. 90 minutes at a previously agreed location

20 digital photos of your choice in a high and low resolution

Beautiful photo-album (15×15 cm, 30 pages) with the very best photos of the shoot
Connection
The full package
Photoshoot of approx. 90 minutes at a previously agreed location

All* digital photos in high and low resolution

Beautiful photo-album (20×20 cm, 30 pages) with the very best photos of the shoot
* on average 40 – 60 photos
The price for additional separate files is € 20,- per piece
AAll prices are inclusive of VAT and exclusive of travelling expenses €0,40 cent per kilometer. The first 25 km are included in the packages "Connection" and "Love".